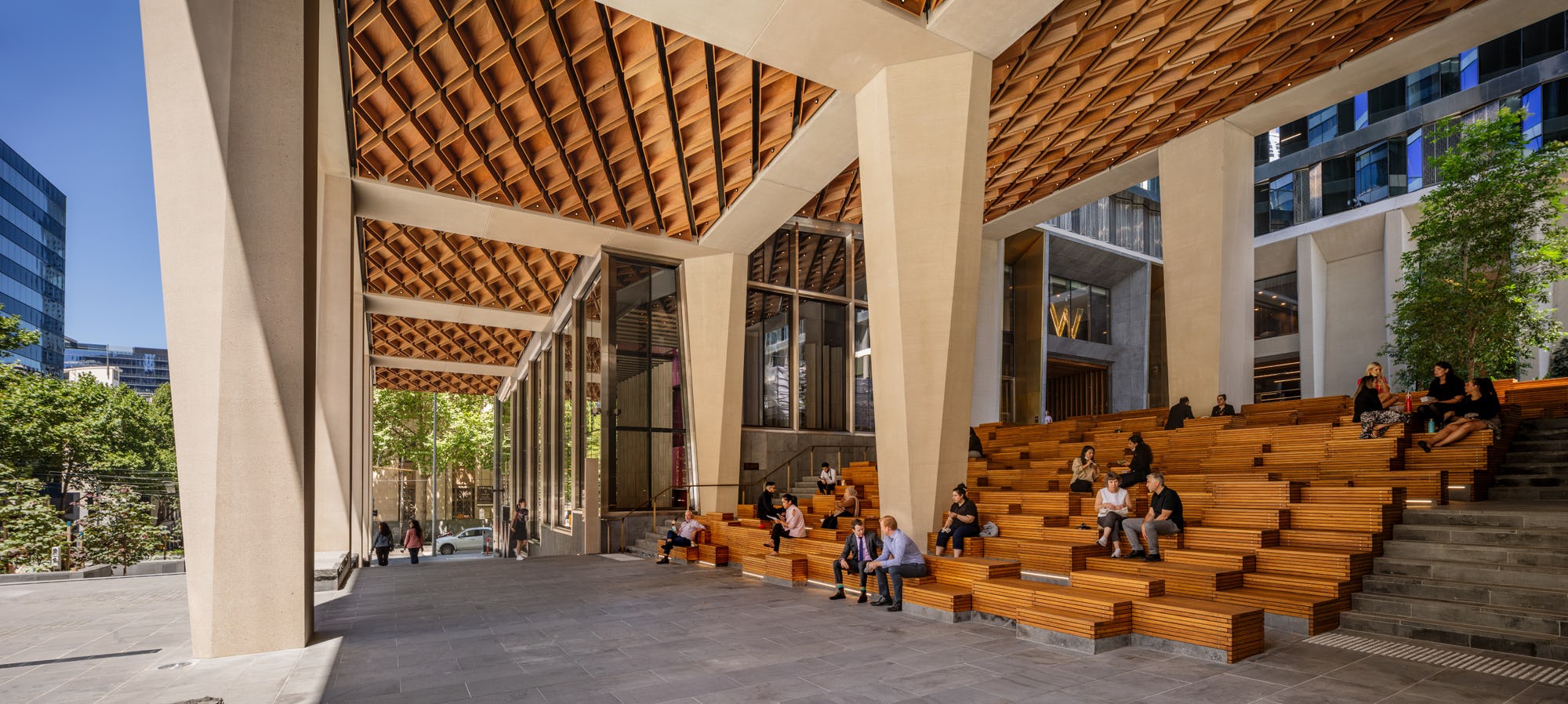 1 of 1
Collins Arch is a landmark mixed-use tower development that occupies an entire city block in the centre of Melbourne, located between Market Street, Collins Street, Flinders Lane and Williams Street.
The iconic twin tower by Woods Bagot and SHoP Architects rises some 165 metres above a permeable ground plane designed by OCULUS that creates a verdant, attractive and high quality landscape for the enjoyment of workers, residents and visitors, as well as contributing to the wider health of the city.
OCULUS worked closely with CBUS and the architectural team to design a permeable ground plane with generous through-site links and public open space. The City of Melbourne was a major stakeholder and collaborator.
The landscape responds to the architectural language of the towers in both concept and materiality, creating a gradual transition from internal to external spaces, from street to plaza.
The Central Court and expansive colonnade provide direct connections to the Immigration Musuem and through to the Yarra River, lined with occupiable edges and framing residential and retail entries and commercial lobbies. Transition spaces that moves from public to semi-public, they are destinations in their own right, providing respite and outdoor dining opportunities.
An important mid-block connection is made between the retail edge of Market Street and the Central Court, as well as an important east-west arcade connection between William and Market Streets, where possible, landscape interfaces provide activated street frontages.
The ground level public realm creates a memorable address and enhances the building's arrival experience. The ground plane seeks to blur inside and outside, with paved thresholds clearly denoting building entrances. A large amphitheater overlooks the colonnade and draws people up through significant grade change.
During the design phase of the project our scope was extended to include the pedestrian prioritization of Market Street (a separate engagement by the City of Melbourne), which created the first new public park in Melbourne's CBD since the City Square in the 1980s.
Image:
Concept sketch from Collins Street showing raised lawns and colonnade.
Image:
Illustrated public realm plan.
Image:
Early concept plan.
Client
Aboriginal Country
Wurundjeri and Boon Wurrung