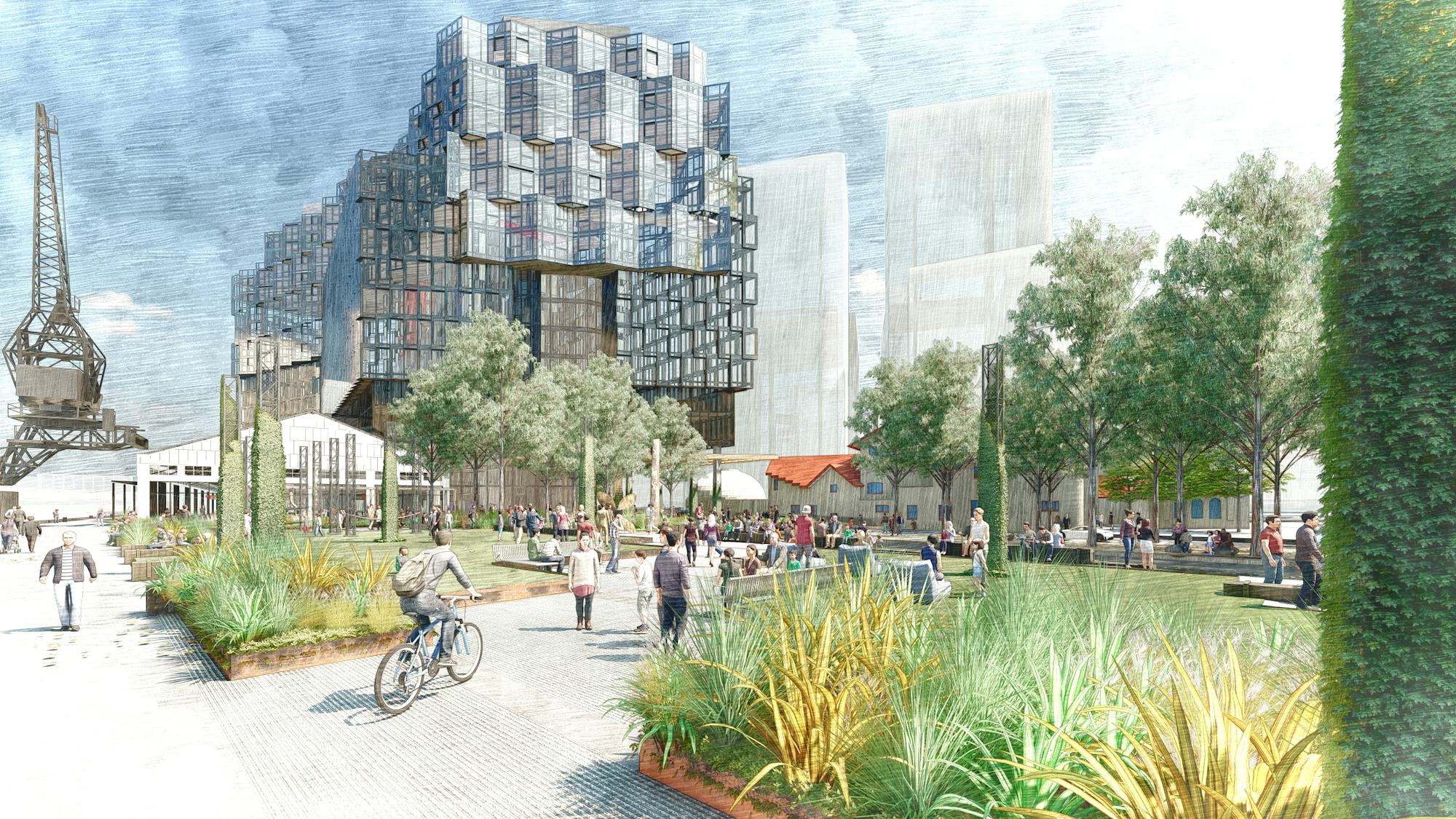 1 of 1
Forming part of Riverlee's $500 million mixed-use Seafarers project, Seafarers Rest Park is a new park on the north bank of Melbourne's Yarra River that pays homage to the site's rich maritime history. Developed by private property developer Riverlee with the assistance of the Victorian Department of Treasury and Finance and the City of Melbourne, the 3,500m2 park will be gifted back to the city once it is completed in 2023.
The site is located west of the World Trade Centre and Flinders Wharf Apartments and is linked by Seafarers Bridge to the Melbourne Convention Centre. The wider Seafarers mixed-use precinct to which the park belongs also includes a 280-room hotel, 150 apartments and a function centre. The function centre will occupy the heritage-listed former cargo shed, Berth 5, at the North Wharf site, while the hotel and apartment building will partly straddle it from the rear.
The aim of the project is to adopt a more integrated mixed use design that promotes both day and night time activation and enhanced integration with the waterfront.
The six key areas and features proposed include:
The River Lawns: open lawns connecting the park to the river promenade via a series of new paths to increase pedestrian and bicycle access.
The Play Wharf: a playful space for children and adults with seating and play elements.
The Habitat Hollows: outdoor rooms for nature play and habitat for Melbourne's urban ecology.
The Events Deck: a flexible-use open space to accommodate gatherings and events.
The Crates: framing the Events Deck, generous timber seating will provide a distinctive place to meet and connect.
The Urban Forest: a green haven to frame the park, complete with shaded area and dog-friendly access.
Future Melbourne Committee members met in June 2020 and unanimously endorsed the project for Stage 2 community engagement.
Client
Aboriginal Country
Bunurong, Boon Wurrung, Wurundjeri
Collaborators