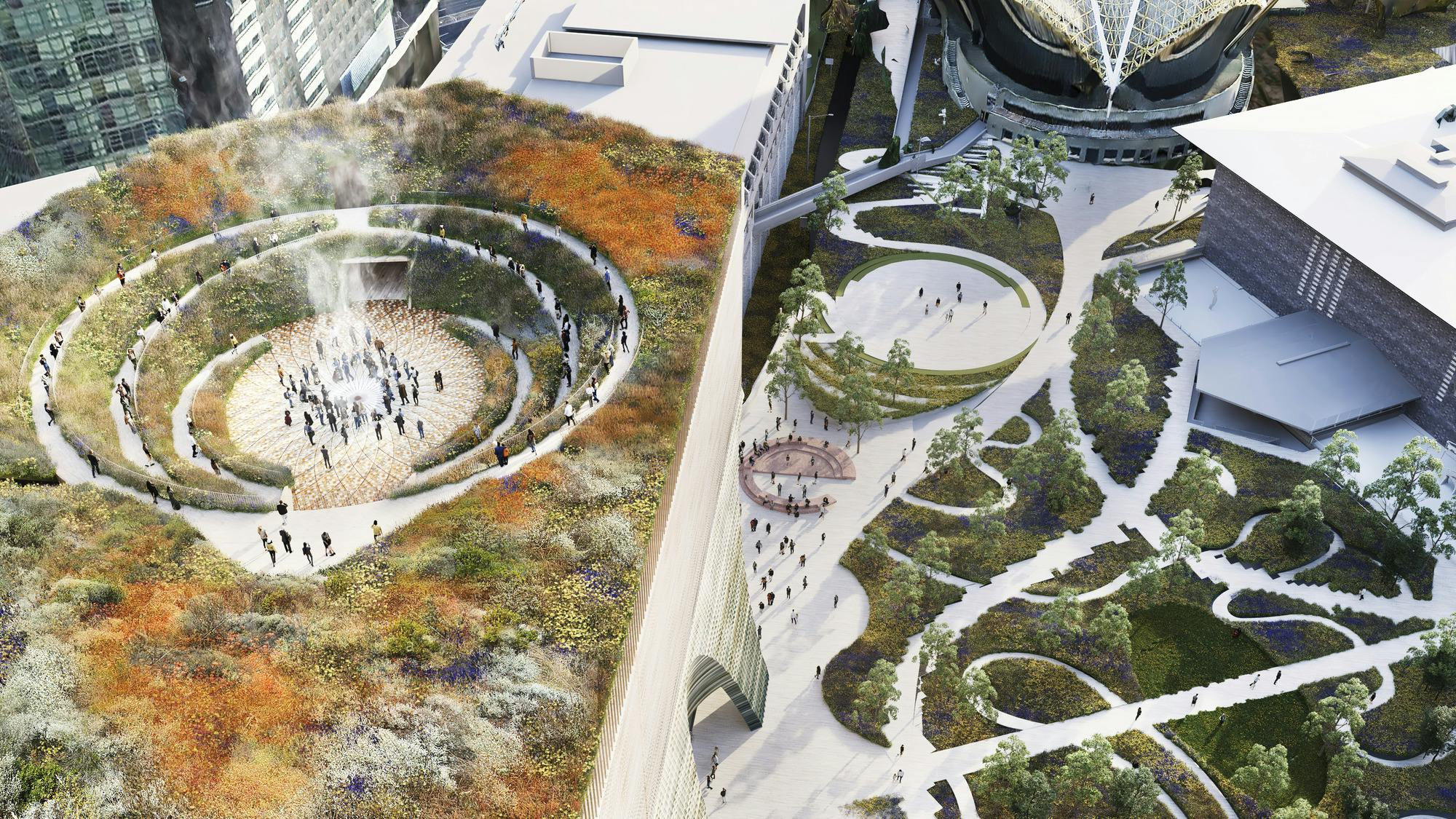 National Gallery of Victoria Contemporary Design Competition
A platform for public life, marrying equity and event.
The Fox: NGV Contemporary Design Competition, open exclusively to Australian architecture teams – an unprecedented move for a competition of this scale and civic profile – was an important acknowledgement of the depth of Australian design talent.
Our shortlisted team, led by John Wardle Architects, were guided by the principles of designing with Country and designing for Melbourne. The ambition was to create a future gallery acting as a catalyst for all kinds of connections – between art, design, and activism, across the environment, technology, politics, and our diverse cultures.
From the outset, the team established themes and a framework for conversation with Traditional Custodians. Through engagement with the diverse voices of Australia's First Peoples, our entry highlighted the potential to create knowledge through experience, to allow the world's oldest living culture and knowledge systems to infuse the NGV Contemporary design.
As a physical landmark, the John Wardle Architects-led team's proposition for the NGV Contemporary is an earthy, grounded material presence, a chamber for contemporary art and design connected to place.
Our landscape architectural response for NGV Contemporary provides a platform for public life, marrying equity and event:
A widened Kavanagh Street footpath connects from Southbank Boulevard to the upper level of the garden via a generous public stair and lift integrated into the fabric of the building.
An art walk provides prospect and refuge from the street.
Ascending to the main entrance via a wide stair and contiguous ramp, carved from the garden as it folds to the street, the ramp and water channel evoke the meander of the Birrarung (Yarra River) before it was channelised, an opportunity for truth-telling in the context of treaty. The eastern edge is released through the colonnade, arced openings weave with the serpentine curves of the meadow garden. Integrated with the garden to the east via the strong axis between NGV Contemporary and NGV International, and the Sturt Street spine to the north, the public realm network draws visitors through a series of intimate spaces for passive recreation and reflection, to medium and large programmed event spaces.
This design for NGV Contemporary 'takes the gallery into the city' by interweaving the key civic moments of arrival from the street or garden, contemplation over Country and the sky with the controlled exhibition spaces that will house works of artists and designers from around the world. These civic moments forge connections with Melbourne in all its diversity.