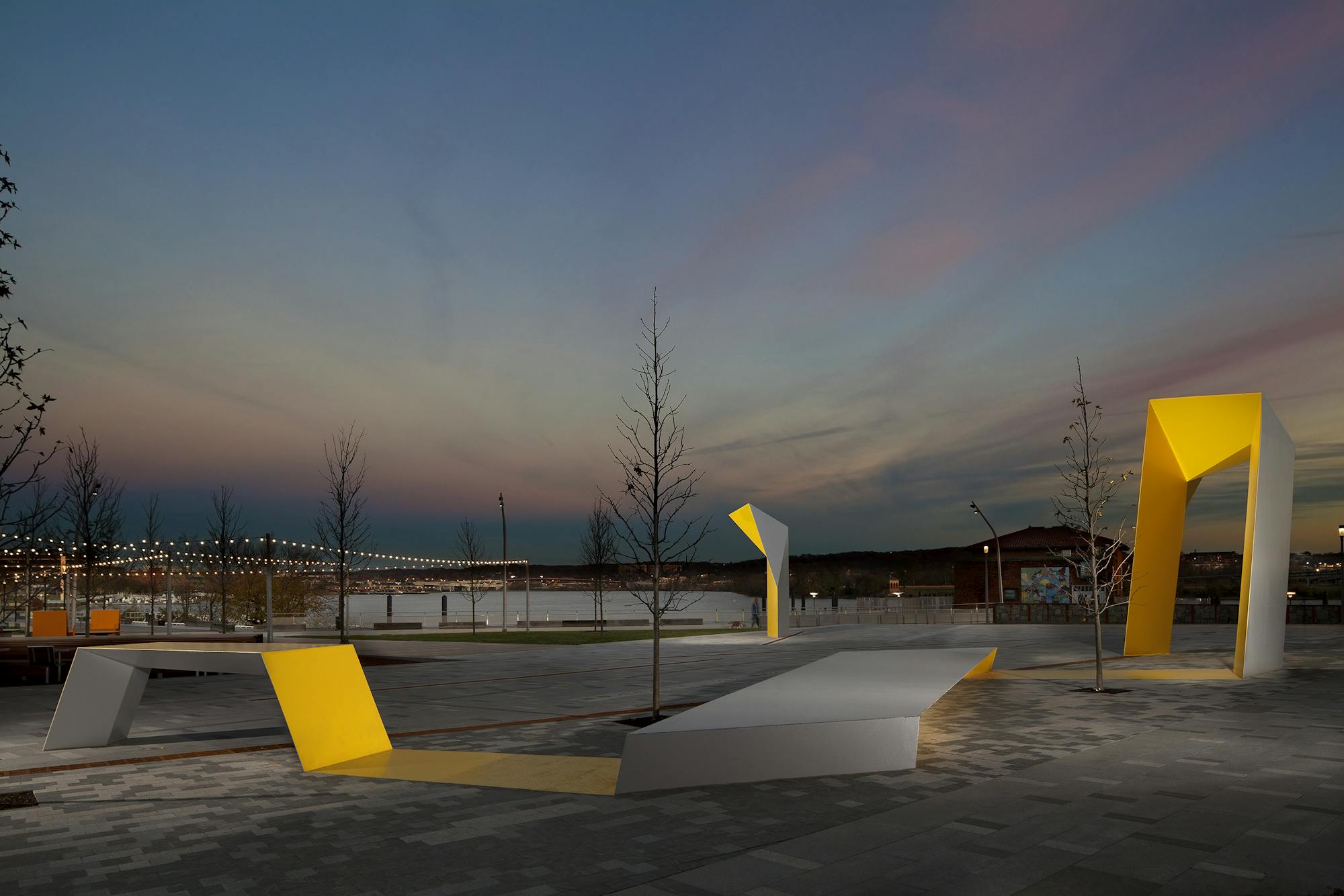 Sited on axis with Nationals Park, the Navy Yard, and Yards Park in Washington DC, this is the first stage of a three-phase redevelopment plan that transforms a former concrete plant into a riverfront destination. The area will comprise office, retail, residential, and hotel development, a marina, and gardens and trails integrated into the 28-mile-long Anacostia Riverwalk system.
The landscape of the mixed-use Dock 79, completed in 2016, celebrates the riverfront while it amplifies the site's unique cultural and natural contexts. With plazas, a promenade, outdoor dining terraces, and intimate spaces, the OCULUS scheme creatively accommodates both public and private functions.
Smartly-designed open spaces sustain ecosystem services and welcome recreational and leisure activities. An expansive bio-filtration garden densely vegetated with native plants absorbs stormwater and removes pollutants before they can enter the Anacostia River. Evoking the industrial heritage of the site, a gabion wall stabilizes the river's edge. Amphitheater style seating and stairs intermingled with native plants frame exceptional views of the Anacostia.
Fronting National's Park, a vibrant public plaza includes a beer garden, ping-pong tables, an interactive water feature, custom furniture, and a steel sculptural element. A wood esplanade adjacent to the stone-paved plaza unites Dock 79 with the adjacent Diamond Teague Park. OCULUS developed the full build-out master plan as well as all the design and construction documents for phase one of Dock 79.
Phase Two of the design is currently underway.
Team
Awards
ASLA Potomac Chapter, Unbuilt Project Merit Award, 2015