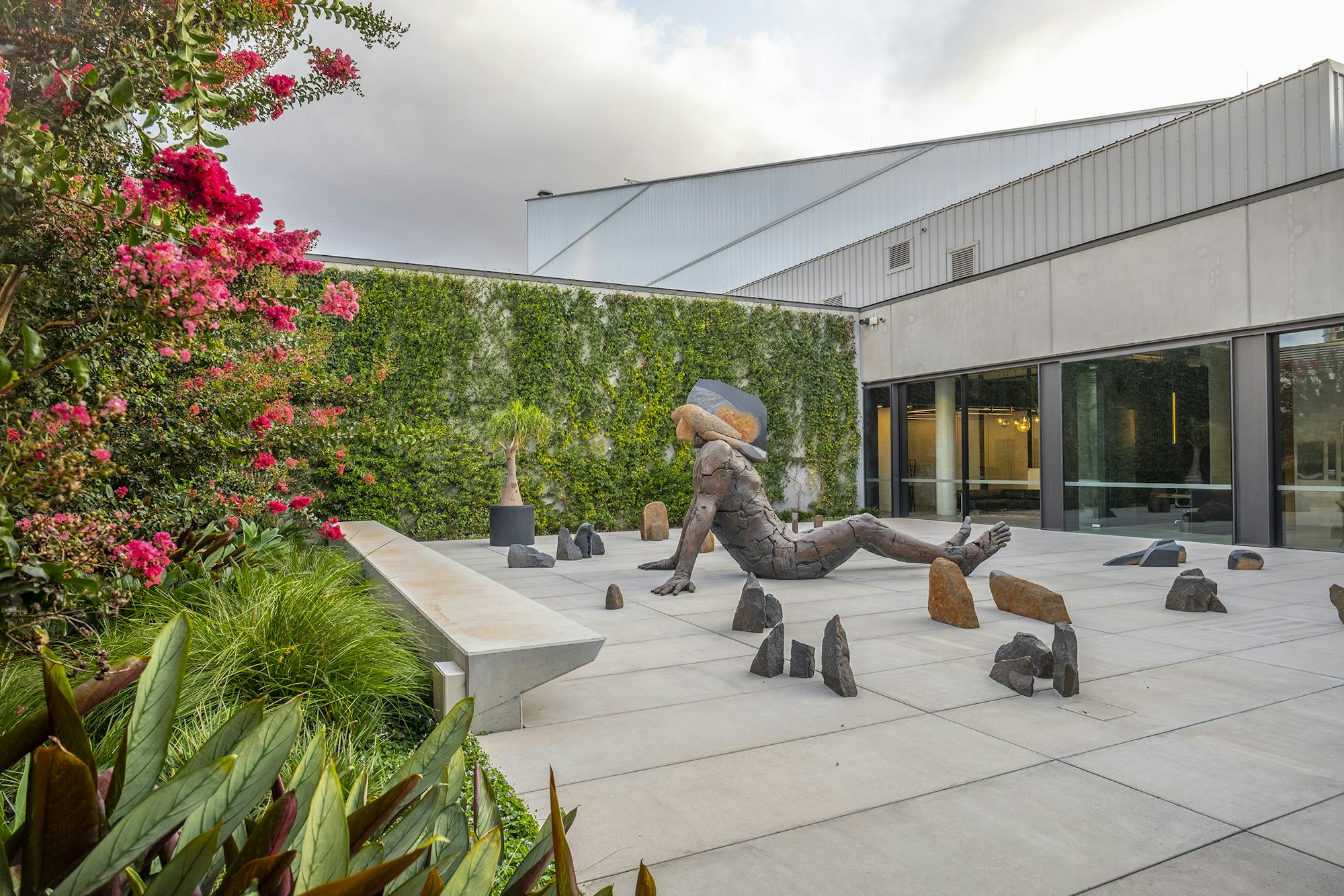 1 of 1
Dangrove Art Storage Facility
A purpose-built art storage facility that houses a private collection of contemporary Chinese art.
As landscape architects and urban designers, we strive to create projects in the public and private domain that are challenging, contemporary and multi-dimensional, projects that encourage engagement with landscape and spark conversations between the people who occupy them. The Dangrove Art Storage Facility project offered up an exciting opportunity to explore these interests in a truly collaborative way, and with the support of a very sophisticated client in Judith Neilson, an important collector, philanthropist and artist.
Our scope on the Dangrove Art Storage Facility included the design of the external public and communal spaces and a planted setback to Mandible Street.
Working closely with architects Tzannes, we developed a landscape canvas for Dangrove that is flexible, considered and well mannered – a place that people can occupy formerly or informally and interact with artworks in an up-close and intimate manner. The canvas is intended to function as an extension of the building, with a seamless interface between interior and exterior space.
Along the Mandible Street setback we introduced a row of Acer palmatum 'Sango Kaku' (Coral Bark Maples) – a tree with brilliant coral bark and bright green foliage – which both accentuates the linear, wedge-form of the building while punctuating it with vivid colours. Low shrubs and ground covers introduce striking green foliage and blue-purple flowers while providing screening and articulation of the building entries.
The landscape spaces include an external terrace on level two that is accessible to and viewed from offices and creative spaces.The terrace forms a generous space that can be used for events as well as functioning as an everyday space for workers and visitors. Large pre-cast concrete paving planks form the ground surface and are aligned parallel to a large precast concrete seat that continues the linear theme reflected in the architecture of the building. The concrete materiality reinforces the industrial nature of the building and a large linear planter on the north-eastern side of the terrace introduces a bosque of Lagerstromia indica 'Tuscarora' (Crepe Myrtle) that will illuminate the space in summer with brilliant crimson flowers.
Despite a number of different expressions, the planting forms a cohesive palette with similar colour themes while still allowing enough variability for the space to be read differently as you move through it. Sitting almost momumentally in the centre of the terrace is South African artist Angus Taylor's sculpture of an oversized reclining figure, distorting all sense of scale.
The OCULUS design team provided landscape architectural services from early concept stage through design development, documentation and construction services to competition of the project. This included challenging detailing of the large paving slabs, which were designed to be structurally capable of taking heavy loads, especially large-scale sculptural elements.
The garden areas also contain landscape lighting to accentuate the trees and the seat at night. Both the terrace and the street setback are irrigated with a fully automatic irrigation system using harvested rainwater collected form the building roofs.
The landscape design approach closely aligns to Tzannes' architectural intent, drawing on materiality to create seamless transitions from internal to external spaces. Collaboration was central to this process and has resulted in a highly resolved and detailed project that spans the intersection between art, landscape and architecture.