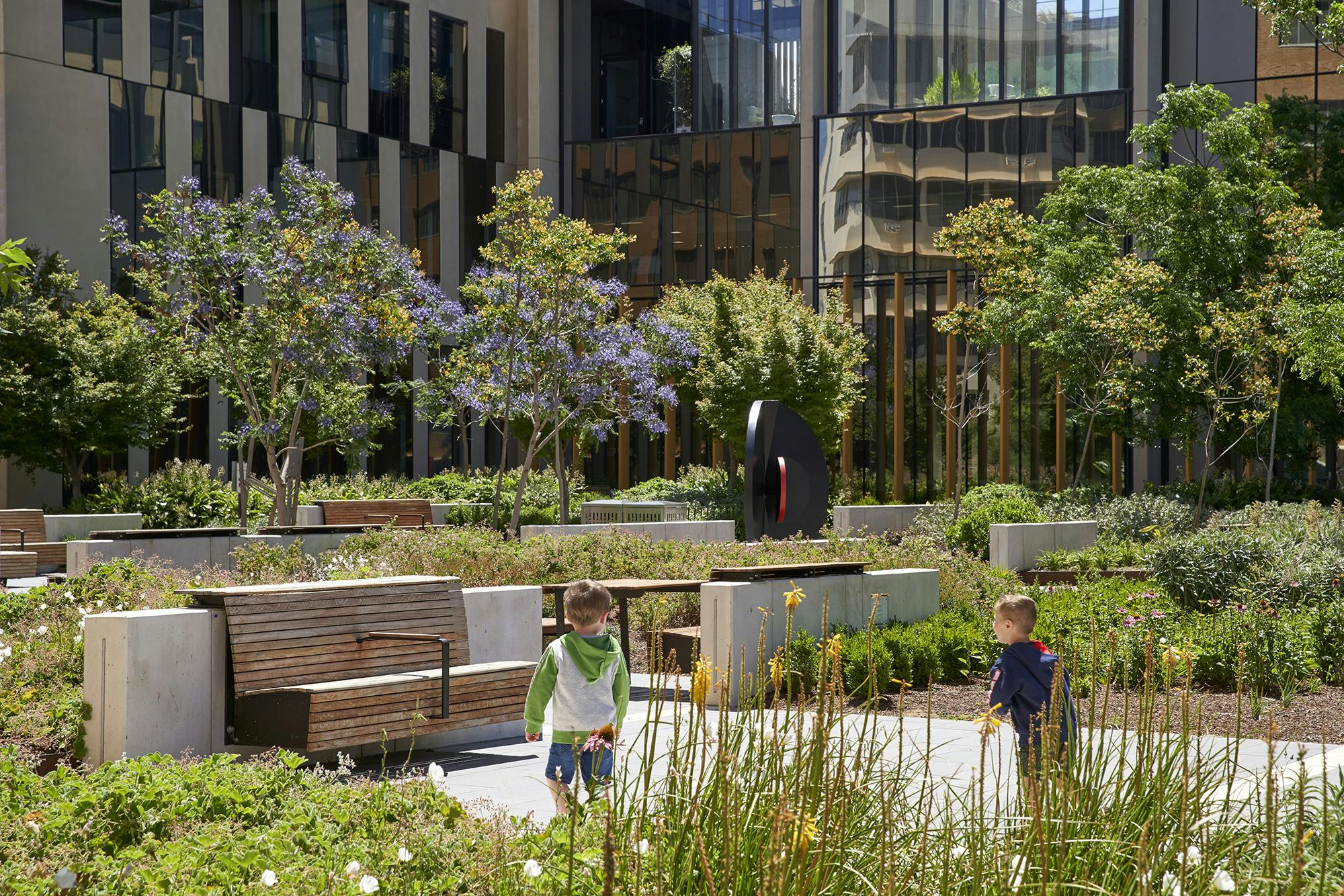 Bendigo Hospital
Client
State Government of Victoria
An evidence-based design response providing social and environmental benefits with a strong sense of place.
The $AUD 630 million Bendigo Hospital project delivers world-class healthcare facilities across a 13-hectare precinct. References to the site's history and ecology have helped deliver social, environmental and cultural benefits with a strong sense of place, for patients, staff, visitors and the community. The design was derived through extensive engagement with numerous stakeholders including hospital staff, local community groups and local government.
The highly collaborative Bendigo Hospital Project was delivered as a public-private partnership (PPP) under the State Government's Partnerships Victoria policy from a world-class brief, combining architecture and design, health planning, landscape architecture, engineering and construction.
Both the project brief and site posed a number of significant challenges including: the precinct scale and establishment of two-sub precincts, accreted heritage buildings and demolished buildings, the need to support the future growth of Bendigo, considerable topographic transition across the site, significant safety in design considerations for people with limited mobility and where higher levels of safety and security required in the mental health unit, the complexity of designing a large number of multi-level landscapes on structure that were heavily integrated into the building with varying levels of exposure and enclosure, complex user group, client and consultant engagement, access and maintenance and a 25 year design life.
The landscape architectural design drivers - connection and kindness - foregrounded a legible structure, developing a walkable precinct with a clear hierarchy of streets and walkways that engage with the broader city, heritage buildings and topography.  Canopy cover and green links provide a high-quality vibrant public realm, with a north-south civic axis creating an important, inviting through-site link.
Providing choice helps to minimize stress in healthcare environments, so a diversity of community, collaborative and private spaces was created across the precinct and throughout over 46 balconies, green roofs, roof decks, and courtyards (including 20 mental health courtyards).
OCULUS used an evidence-based, and Biophilic Design approaches across the project, incorporating fractal leaf structures and utilising natural and local materials, moving water and textured planting. Green infrastructure initiatives include water sensitive urban design, structural soils and with significant increases in biodiversity, habitat and the urban forest, restoring valuable ecological and hydrological systems across the precinct. The project has been assessed in consideration of best practice and will inform project planning of future health care environments in Victoria.
Recognising the region's significant cultural heritage, the design team collaborated with the Dja Dja Wurrung Clans Aboriginal Corporation through the 'Closing the Gap' initiative. Including the co-design of the Aboriginal Services Courtyard, with a fire pit and planting, to enable cultural practice and education. Within the broader precinct, an aboriginal garden incorporates more local indigenous planting and celebrates a valuable cultural artefact, a relocated scarred tree. The planting design was completed in collaboration with the community and the garden construction created community employment opportunities for the Dja Dja Wurrung. Local Chinese history is celebrated in a dedicated community garden, and site-specific public artworks from Bendigo Art Gallery and several artists, are integrated across the precinct.
Client
State Government of Victoria
Aboriginal Country
Dja Dja Wurrung and Taungurung Country
Collaborators
Silver Thomas Hanley
Bates Smart
Paul Thompson
Exemplar Heath
Lendlease
Awards
International Federation of Landscape Architects (Asia Pacific) Award of Excellence, 2019
Good Design Award Winner – Architectural Design Category for Urban Design, 2019
Good Design Award Winner – 202020 Vision Green Design Award, 2019
Australian Institute of Landscape Architects National Award of Excellence for Civic Landscape, 2019
Sustainability Awards Public and Urban Finalist 2019
Property Council of Australia Development of the Year – Public Project VIC, 2018
Australian Urban Design Awards (AUDA), Built Projects – City and Regional Scale Category, 2018