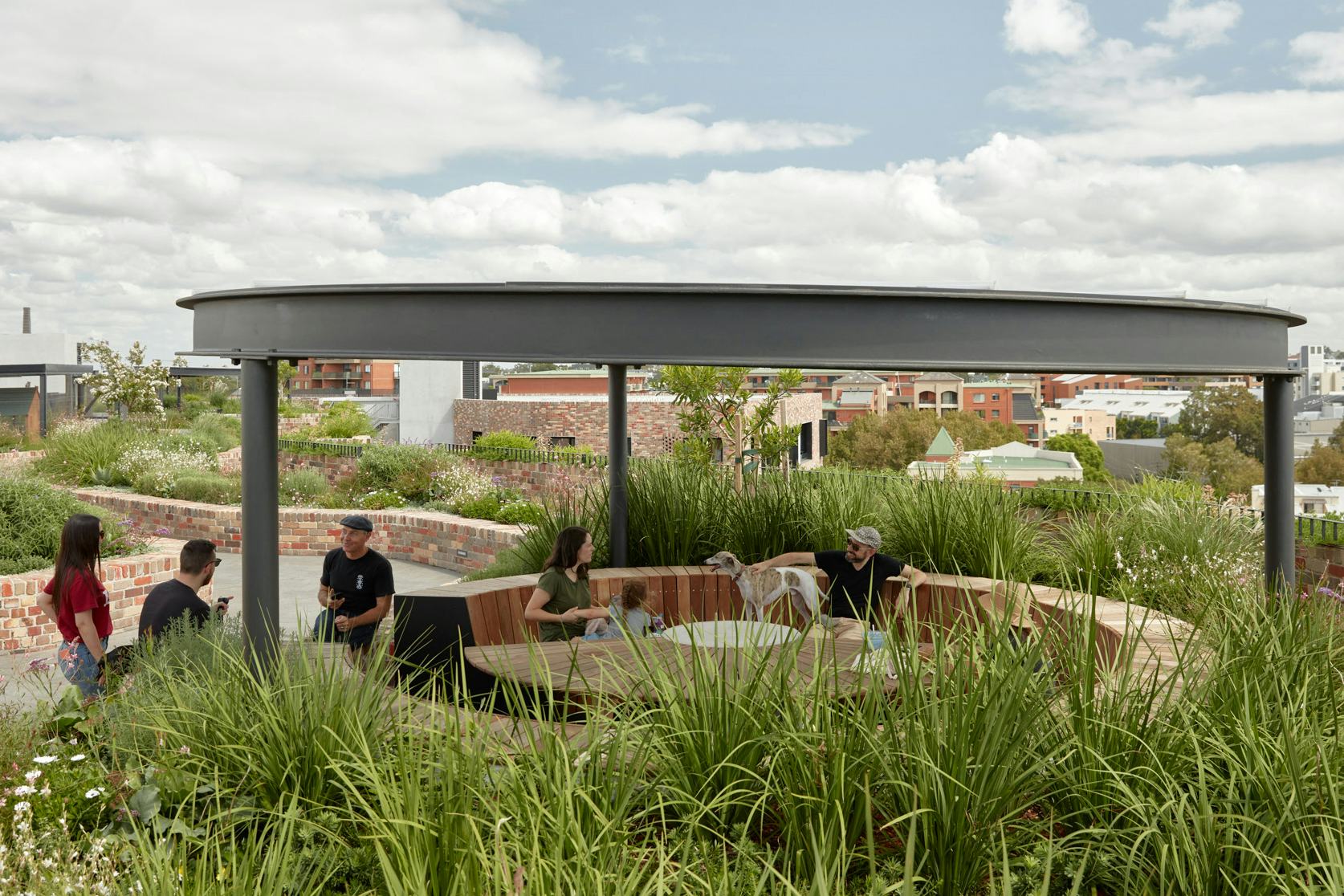 1 of 1
This apartment complex in inner Sydney sets a new benchmark in how multi-residential projects can foster community, social interaction and neighbourhood integration.
Located opposite Sydney Park in the growing inner city suburb of Alexandria, Arkadia Apartments reflects the industrial character of the area while offering a compelling model for urban living. Designed by DKO Architects, Breathe Architects and OCULUS for Defence Housing Australia, the project sets new benchmarks in how a multi-residential project can foster community, social interaction and neighbourhood integration.
The project consists of 128 apartments, with around half of the units reserved for defence personnel and their families while the remaining 71 will be sold on the open market. As landscape architects, OCULUS provided design and documentation services for the public and private domain, including an integrated ground plane (Huntley Green public park), through-site links, a series of courtyard gardens and atriums, a communal edible garden and expansive rooftop terrace.
The Arkadia development occupies a 5,590m² site and has been carefully integrated into the surrounding streets in a way that enhances the neighbourhood. Two through-site links provide ground level entry via Sydney Park Road with clear views to foyers and public spaces beyond. Huntley Green, a new pocket park, provides a landscaped interface between the new building and existing terraces, providing common amenity and sense of invitation, intimacy and comfort. At its centre a public artwork by Jane Cavanagh references the brick kiln chimneys that once stood in the area when Sydney Park was a brick pit.
A series of communal terraces are provided on levels 2, 3 and 5. These terraces contain productive garden allotments to be made available to each resident, designed to encourage interaction between residents.
The upper-level roof terrace provides uninterrupted views of Sydney Park and Sydney's skyline complete with BBQ facilities, seating pods, a chook pen and sheltered areas to provide dynamic and flexible spaces throughout the day and evening for residents. The dominant material of recycled bricks references the site's history as a brickworks while championing the use of recycled materials in large construction projects.