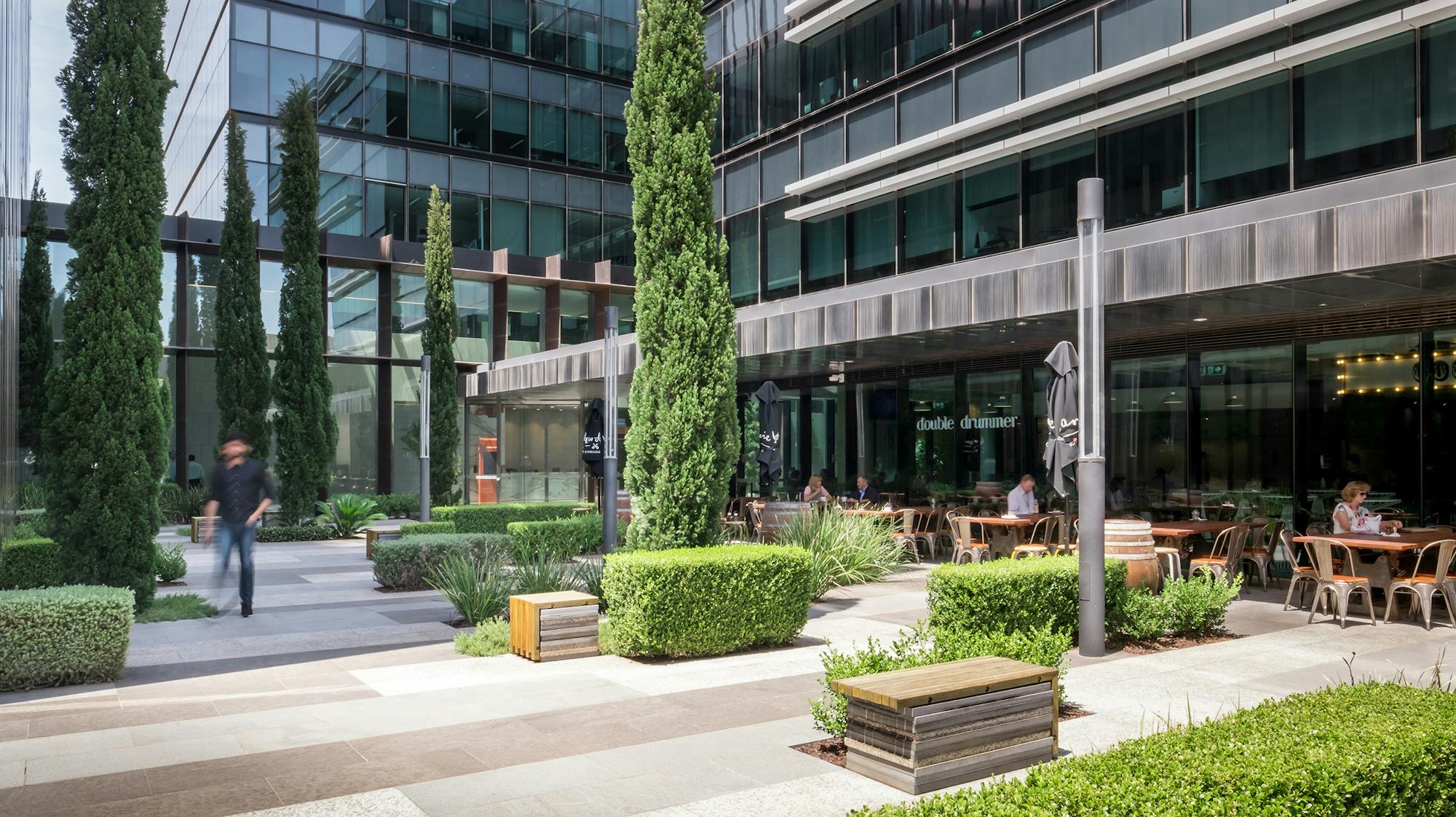 A fine-grain landscape lends this Canberra mixed-use precinct an urban village character.
OCULUS was engaged by ISPT Super Property to develop a cohesive landscape master plan for the landscapes at number two and number four National Circuit, Canberra. This included the surrounds and internal courtyards of the refurbished art deco Patents Office and a proposed new building.
Both buildings are located within the Parliamentary Zone – the symbolic heart of Australia's National Capital and the geometric centre of the Griffin Plan for Canberra. The master plan sought to respect the Griffins' 'garden city' vision and the intrinsic qualities of the Canberra landscape by providing a campus-style environment.
Central to the design is a large landscaped plaza that is activated by ground floor retail and building lobby entrances. The plaza provides for outdoor seating for office workers to eat lunch or have a coffee in as well as an alternative location to hold informal meetings. The paving pattern consists of a matrix of different granites, punctuated by tall conifers trees at scale with the buildings and low groundcover planting and hedges.
Number Two National contains two internal courtyards that allow different uses, including outdoor functions for up to eighty guests as well as contemplative garden spaces in which to sit and relax.
Both buildings – along with the adjacent Prime Minister's Department, The Attorney General's Department and the Australian Federal Police – assume a key role in the daily functions of government, providing prestigious venues for major government departments and headquarters of major national associations. As such, security has played a key role in the development of the 2-4 National Circuit campus plan, resulting in a perimeter accented by hostile vehicle mitigation walls. The master plan sought to create a series of low security walls that provided visual transparency and didn't compromise the aesthetic of the landscape setting.
A ceremonial drop-off is located off Kings Avenue, with the main vehicular set down area paved as a pedestrian priority space.
Collaborators
Fender Katsalidis Architects
Awards
AILA ACT Award of Excellence for Civic Landscapes, 2016