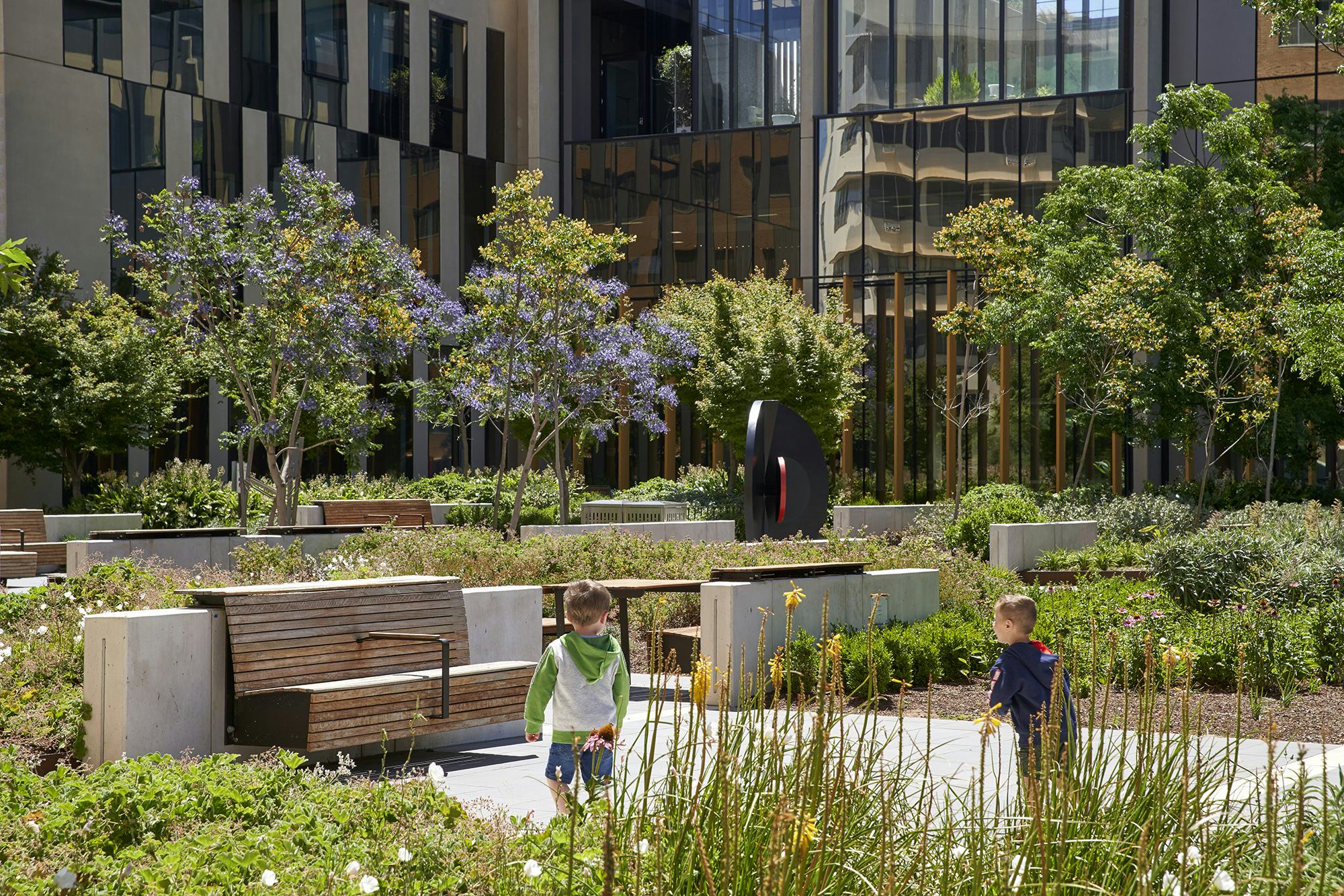 Bendigo Hospital. Photo: Peter Clarke.
OCULUS and RMIT University to take part in global research project examining high-performance landscape projects
13 Dec 2021
OCULUS, in partnership with RMIT University, has been selected to take part in a global research project led by the US-based Landscape Architecture Foundation. The Case Study Investigation program (CSI) is a unique research collaboration and training program that pairs landscape architecture practices with academic partners to document the environmental, social, and economic impacts of exemplary, high-performing landscape projects.
The resulting Case Study Briefs are published on LAF's award-winning Landscape Performance Series website and database of over 160 projects.
The 2022 CSI program kicks off in February and runs through early August. The participating academic teams, design firms, and projects are:
Arizona State University + SWA
CSI Research Fellow: Chingwen Cheng, PhD, ASLA, PLA
Student Research Assistant: Ramandeep Kau
Project: El Paso Pedestrian Pathways, El Paso, TX

Auburn University + Sasaki
CSI Research Fellow: Charlene Marie LeBleu, FASLA, FCELA
Student Research Assistant: Kangkhita Aishwarya Bosu
Project: Gulf State Park Master Plan & Phase 1, Gulf Shores, AL

Purdue University + ECOLAND Planning and Design Corp.
CSI Research Fellow:  Yiwei Huang, PhD, ASLA
Student Research Assistants:  Wanting Zhang and Yahan You
Project: Suining South Riverfront Park, Suining, Sichuan, China

RMIT University, Melbourne + OCULUS
CSI Research Fellow: Bridget Keane, PhD
Student Research Assistant: Peter Grant
Project: Bendigo Hospital, Bendigo, Victoria, Australia

Temple University + Studio Bryan Hanes
CSI Research Fellow: Bess Wellborn Yates, ASLA
Student Research Assistants: Sidney Buckingham and Michelle Lee Delgado Wallace
Project: The Rail Park, Phase 1, Philadelphia, PA

Texas A&M University + Design Workshop and Reed Hilderbrand
CSI Research Fellows: Galen Newman, PhD and Dongying Li, PhD
Student Research Assistant: Rui Zhu
Project: Houston Arboretum and Nature Center, Phase 1, Houston, TX

Tongji University Shanghai + Sasaki
CSI Research Fellow: Ing. Nannan Dong, PhD
Student Research Assistant: Yiqi Wang
Project: Xuhui Runway Park, Shanghai, China

University of Illinois Urbana-Champaign + DTLS
CSI Research Fellow: Kelley Lemon, PLA, LEED AP, EDAC
Student Research Assistant: Chia-Ching Wu
Project: STLCC Forest Park Center for Nursing and Advanced Health Sciences, St. Louis, MO

University of Nebraska-Lincoln + SmithGroup
CSI Research Fellow:  Salvador Lindquist, ASLA
Student Research Assistant: Jacob Essink
Project: Dequindre Cut Greenway, Detroit, MI

University of Washington + Site Workshop
CSI Research Fellows: Ken P. Yocom, PhD and Amy Wagenfeld, PhD
Student Research Assistant: Rebecca Habtour
Project: Dune Peninsula at Point Defiance, Tacoma, WA
The CSI program is highly collaborative and helps to bridge the gap between research and design practice. By investing in this research, LAF is generating much-needed information and precedents to evaluate performance, demonstrate value, and make the case for sustainable landscape solutions. 
About the Landscape Architecture Foundation
The Landscape Architecture Foundation is a nonprofit organization based in Washington, DC. Established in 1966, LAF invests in research, scholarships, and leadership initiatives to increase our collective capacity to achieve sustainability and cultivate the next generation of design leaders.
Case Study Investigation (CSI) program: www.lafoundation.org/csi
Landscape Performance Series Case Study Briefs: www.LandscapePerformance.org/case-study-briefs