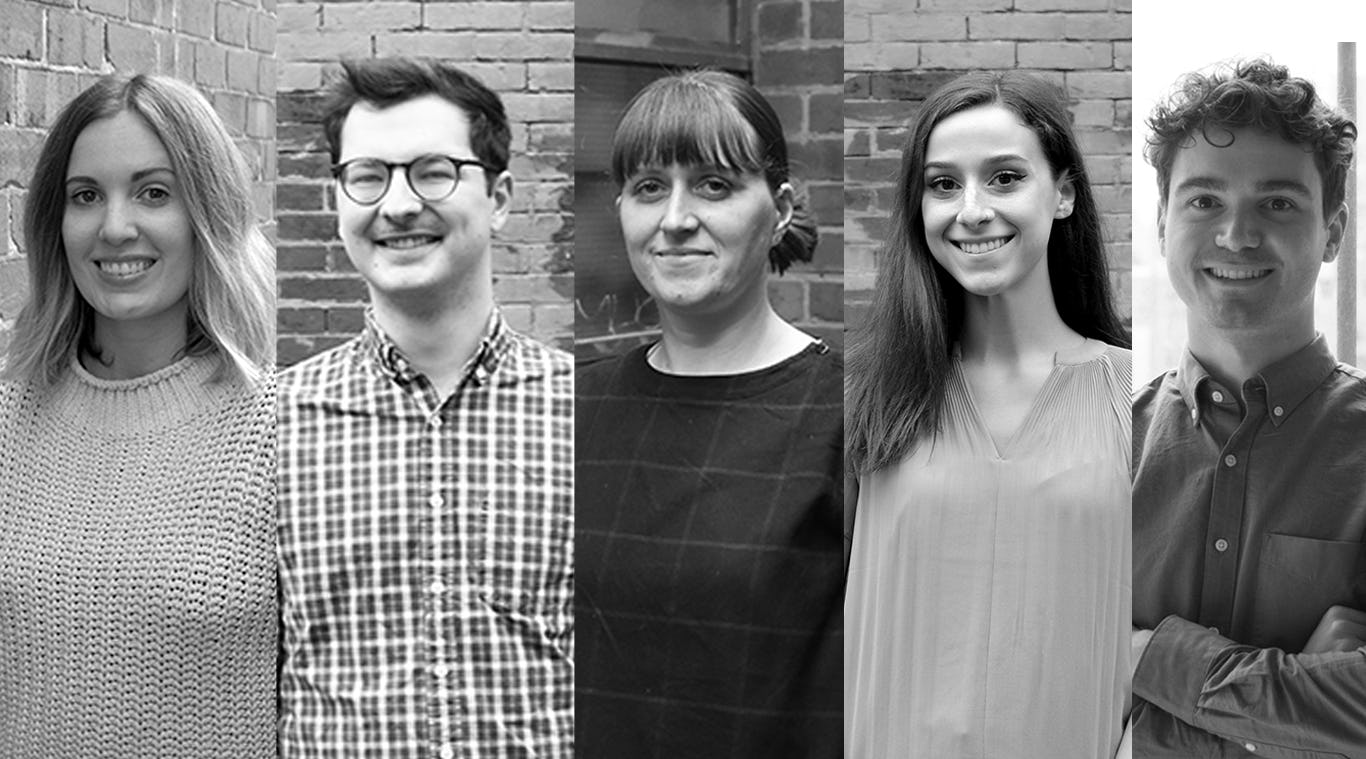 From Left: Georgia Hopkins, TJ McCready, Kate Mutimer, Emily Bernhardt, Asa Kremmer.
OCULUS welcomes new team members
02 Sep 2021
OCULUS is delighted to welcome five talented designers to its ranks.
TJ McCready. Landscape Architect, DC studio
TJ is a landscape designer with more than 5 years of experience managing projects and leading teams in the field. He's worked in both Dallas and San Diego, bringing with him a diverse knowledge from multiple regions.
Emily Bernhardt. Designer, DC studio
Emily is a recent graduate from the Pennsylvania State University Bachelor of Landscape Architecture program, with a certificate in Earth Sustainability. Originally from Erie, Pennsylvania, Emily joined OCULUS after gaining undergraduate horticulture experience at the Erie Zoological Society.
Georgia Hopkins. Landscape Architect, Sydney studio
Georgia is a landscape architect with two years of professional experience working across a variety of projects, including infrastructure, residential, recreation and public realm. She has an advanced knowledge of ecology, horticulture and arboriculture, gained from her time working under a qualified arborist. Georgia has a background in performance and set design.
Kate Mutimer. Senior Landscape Architect, Melbourne studio
Kate is a senior landscape architect with five years of experience working in the industry in Melbourne, across private and local government sectors. She joins OCULUS from Tract Consultants. Kate has a passion for increasing the biodiversity of urban environments through landscape architecture.
Asa Kremmer. Landscape Architect, Melbourne studio
Asa is a landscape architect with experience working in both Australia and the United States. Asa joins OCULUS from James Corner Field Operations in New York, where he worked across several high profile projects including the High Line 10th Avenue Square Upgrade and Houston's Midtown Innovation District. Prior to his time at JCFO, Asa worked at HASSELL in Melbourne.