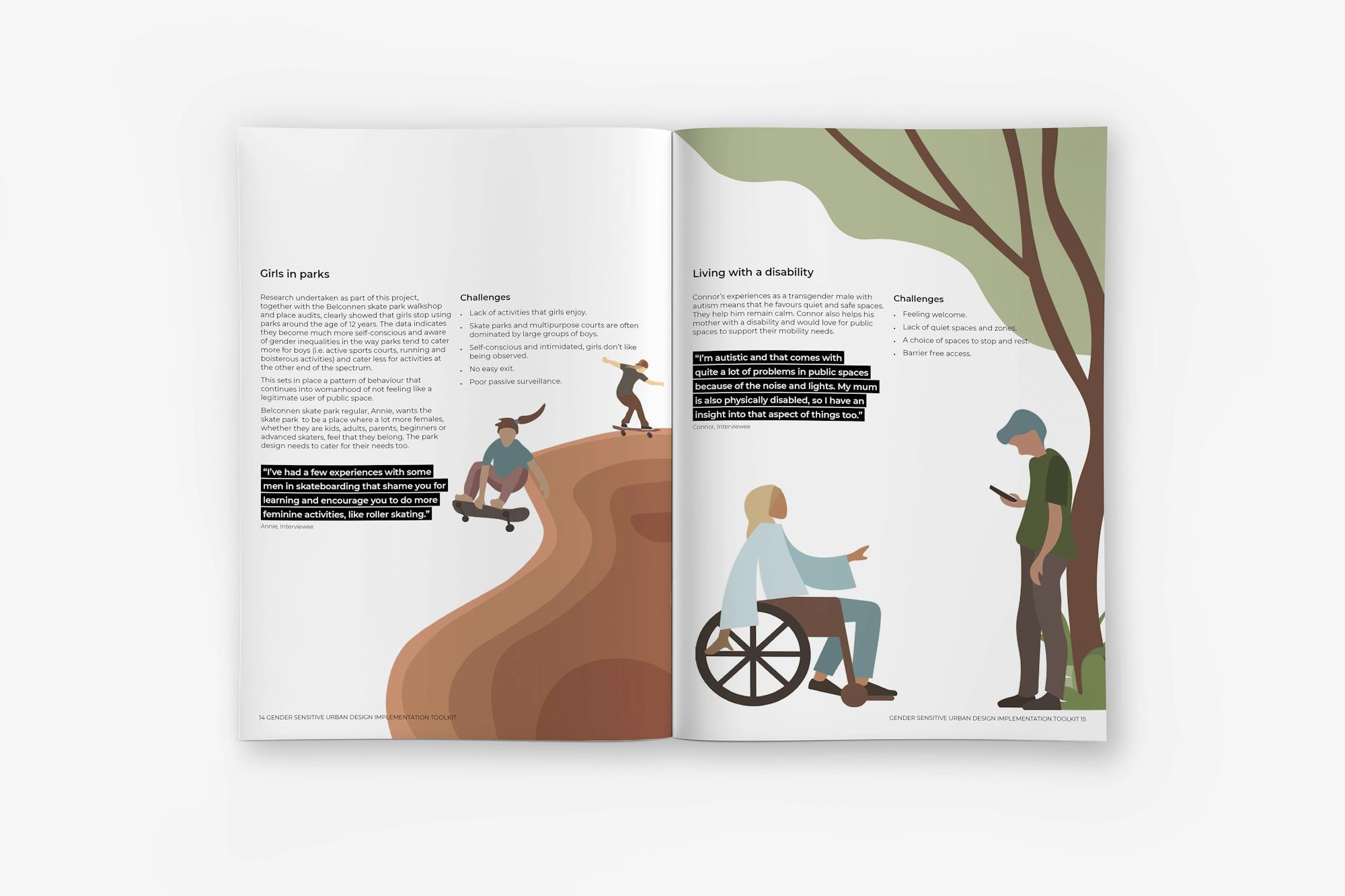 New Gender Sensitive Urban Design Guidelines for the ACT
27 Jul 2023
We're delighted to present the Gender Sensitive Urban Guidelines, developed in collaboration with PLACE Lab, Communication Link, and Inhabit Place, for the ACT Government – in consultation with Canberra's community.
Gender sensitive urban design recognises that people experience public spaces differently based on gender. It aims to resolve inequalities and disadvantages in our urban environment, developed from biased or gendered social structures, that limit the opportunities and rights of any person, regardless of gender. Gender sensitivity in urban design is instinctively linked to safety, particularly the perception of safety. This is significant as 'feeling safe' is ranked by Australians (and Canberrans) as the most important attribute of what makes somewhere a good place to live.
The three-part toolkit is a comprehensive resource that provides designers with essential principles, practices, and strategies for creating inclusive public spaces. With a particular focus on the needs of women, girls, gender-diverse individuals, and other vulnerable people, the toolkit offers a range of strategies to address the multifaceted aspects of gender sensitivity in the public realm.
Part 1: Lived Experiences – details six stories inspired by daily life to provide insight into the inequalities faced by Canberra locals.
Part 2: What can designers do? – a set of tools that identify common urban design inequalities and recommend possible solutions.
Part 3: How does it look at feel? – annotated images that demonstrate the application of the strategies to help bridge the gap between policy and practice.
We encourage you to review the Gender Sensitive Urban Design Framework and the Implementation Toolkit – especially if you work in an industry responsible for shaping public space.