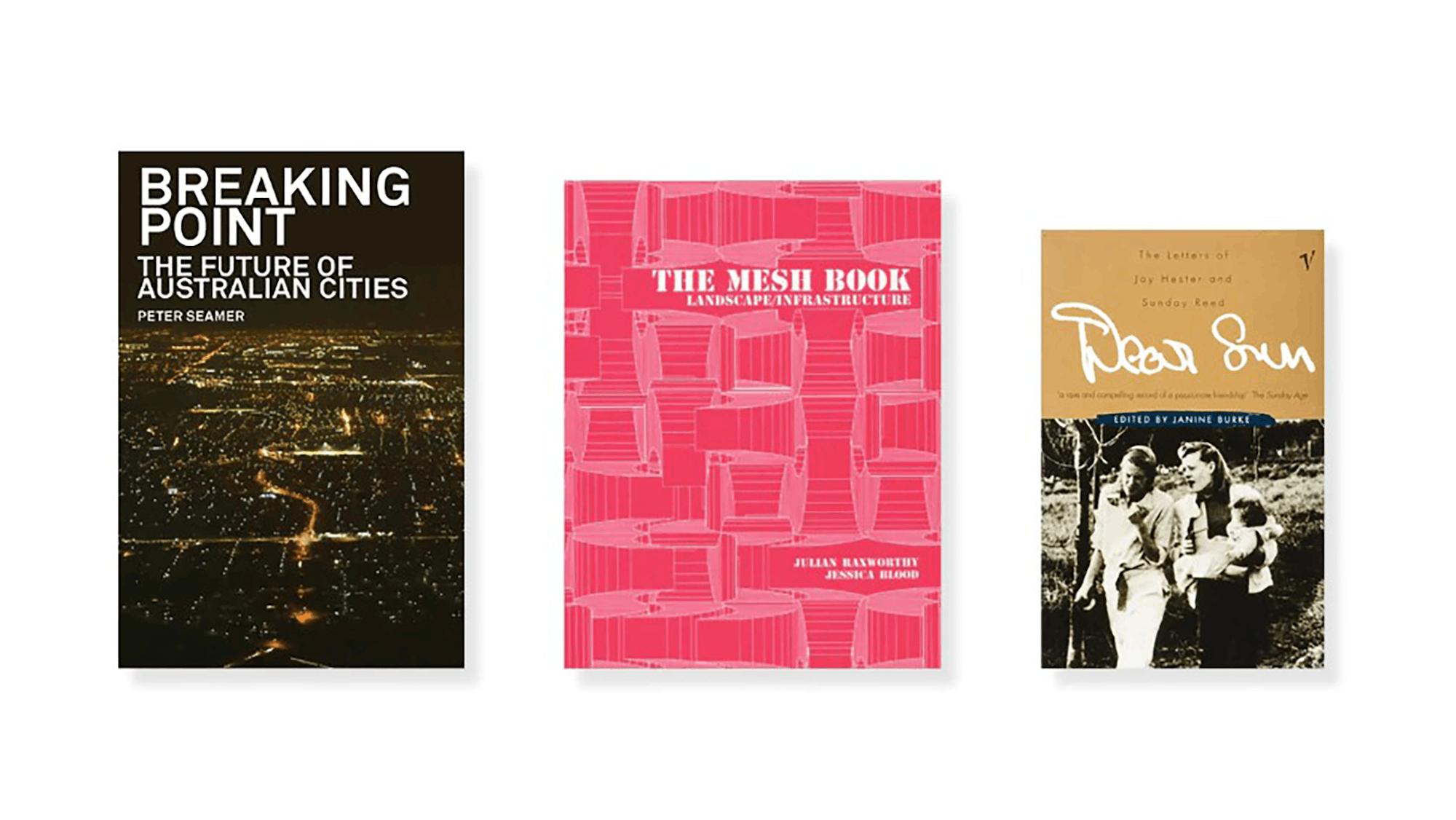 Image: Claire Martin's selection for Melbourne Bound: The City in Books
Melbourne Bound: The City in Books
02 Aug 2022
Bookshop by Uro has asked 10 Melburnians with a creative or professional interest in the built environment to nominate the books that influenced their understanding of Melbourne, and their practice within it. The books form the centrepiece of Melbourne Bound: The City in Books, a curated selection of Melbourne-focused art, architecture and design publications on display until Sunday 13 August. 
OCULUS Associate Director Claire Martin nominated three titles:
Breaking Point: The Future of Australian Cities — Peter Seamer
When written in 2019, Australia's population was projected to increase by 11.8 million between 2017 and 2046. Since its writing, liveability has worsened, inequity has grown, and the global pandemic has highlighted the value of the local. Breaking Point reinforced to me planning's instrumental importance to landscape, lives, and livelihoods. There is phenomenal potential in Melbourne and other Australian cities, if we change the way we plan, design, and build. It is a book of radical hope for more localised, urbanised, and equitable major and regional cities. Australian cities are a federal problem, and we can do better.
The Mesh Book: Landscape/Infrastructure — edited by Julian Raxworthy and Jessica Blood
The Mesh Conference held in July 2001 was part of that continuum of The Edge Conference series that began in 1983, described by Harriet Edquist as a "uniquely Australian phenomenon in landscape architecture education". The Mesh Book explored the potential of landscape as infrastructure, whether The Invisible (systems of beliefs), the Immanent (natural systems) or the Present (road, services), and combined essays, case studies and portfolios. While not exclusively written about Melbourne, it is very much a product of Melbourne and of a community of practice. Now more than ever before it's a reminder of the potential of landscape as infrastructure, supporting something beyond itself.
Dear Sun: The Letters of Joy Hester and Sunday Reed — edited by Janine Burke
I received this book as a gift after visiting Heide Museum of Modern Art on my first day in Melbourne. It's a book of letters by Joy Hester to Sunday Reed, written between 1944 and 1960. Hester was the only woman member of Melbourne's Angry Penguins. Sunday Read was her closest friend and a patron of the arts. John and Sunday Reed's home was the iconic Australian modernist building Heide II. It's a building I fell in love with and that I always return to, with a very distinct visual and physical relationship to the surrounding landscape—continually concealing and revealing.
—
Other contributors include John Gollings, Christine Phillips, Andy Fergus, Kerstin Thompson, Eugenia Lim, Mark Jacques, Conrad Hamann, Dan Hill, and Jan van Schaik. Click here to see the full selection of books.