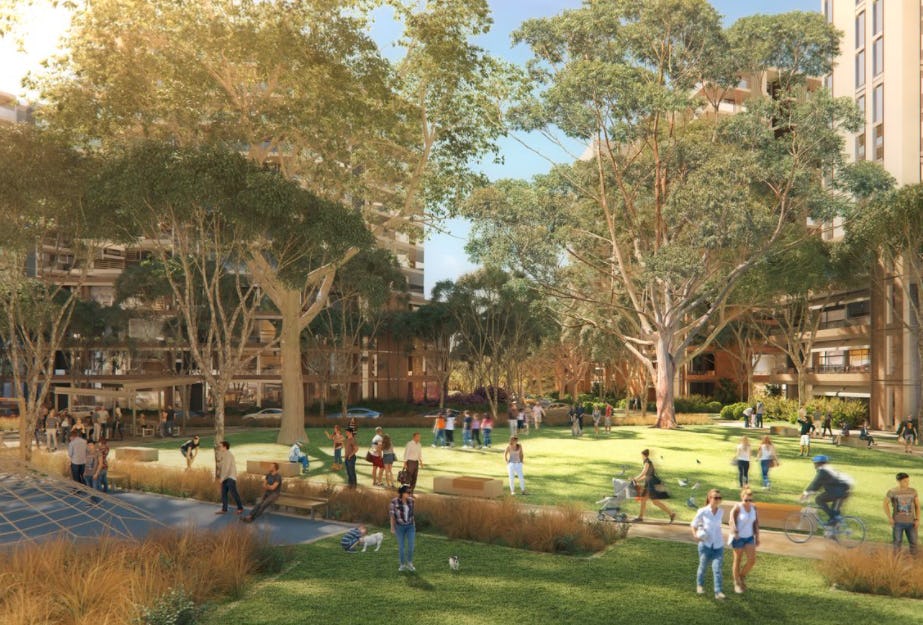 Precinct East Park at the Castle Hills Showground precinct by OCULUS and Cox Architecture.
Castle Hill Showground precinct approved
16 Feb 2021
The NSW government has approved a state-significant development application for an OCULUS- and Cox Architecture-designed town centre precinct at Castle Hill Showground metro station in Sydney's north-west.
The AUD $1 billion town centre precinct is intended to be "a thriving local mixed-use centre that provides a walkable, lively place enhanced by strong connections to world class transport and the cultural and recreational destination of Castle Hill Showground."
Leveraging the landscape characteristics of the site and its surrounds, the State Significant Development Application seeks to deliver a complementary and connected public realm that is anchored by a new civic heart that stitches together the regional recreation networks, local movement patterns and the transport interchange together in a place that is active day and night, weekday and weekend, winter and summer.
In addition, a new park within will provide casual recreation opportunities and form part of a comprehensive network of green and blue spaces for The Hills in line with the vision of the broader Central River City plan.