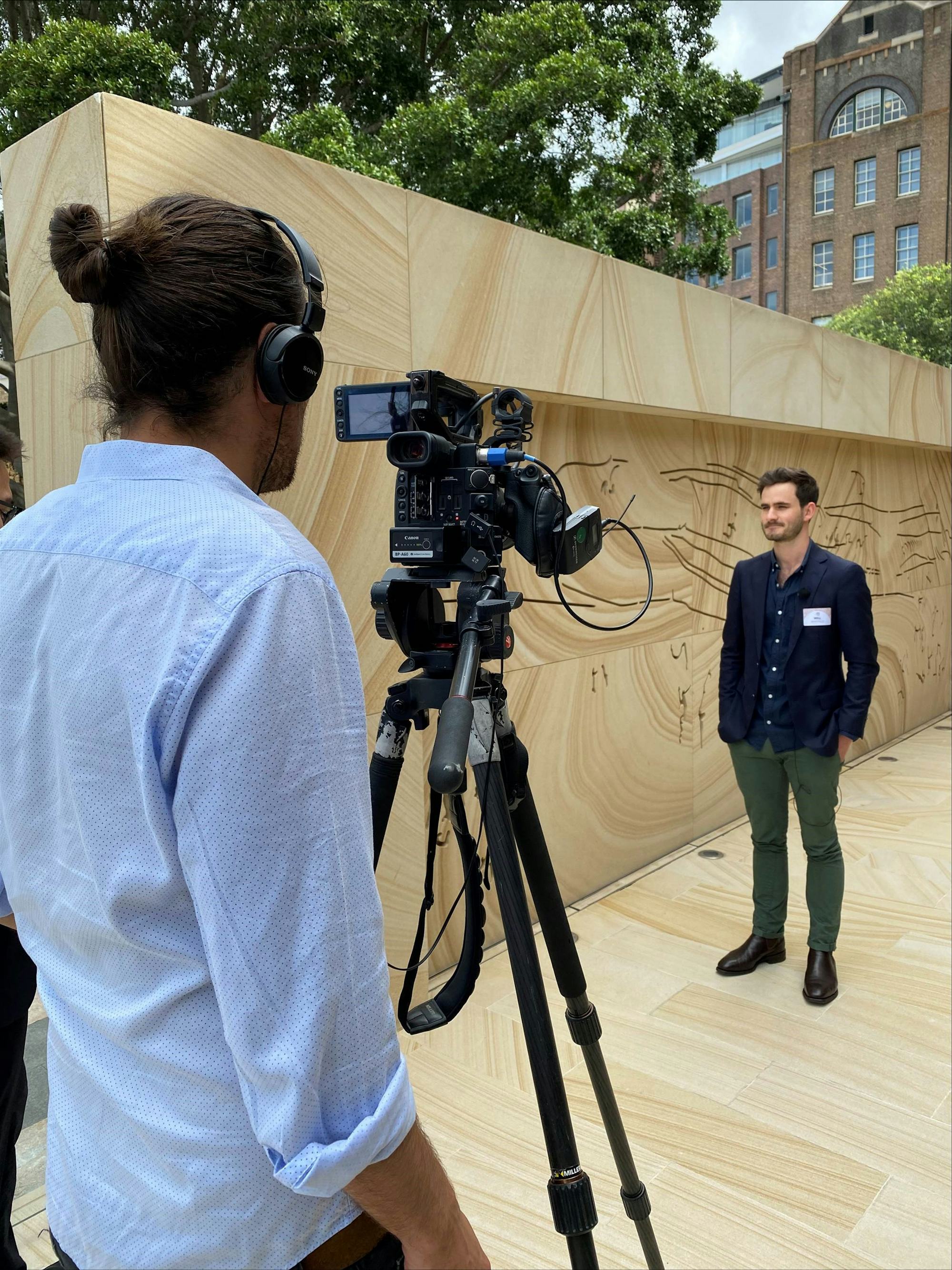 Senior Landscape Architect Will Whitfeld (right) taking an interview on the project. Will was instrumental to the Arkadia project.
Arkadia wins Think Brick Bruce Mackenzie Landscape Award
04 Nov 2020
OCULUS was thrilled to receive the 2020 Think Brick Bruce Mackenzie Landscape Award for our work on Arkadia (designed in collaboration with DKO Architects and Breathe Architects).
Arkadia is a new apartment building located opposite Sydney Park in the growing inner Sydney suburb of Alexandria, NSW. Using half a million recycled bricks in its construction, Arkadia is believed to be the largest recycled brick building in Australia.
According to the Jury, "the project recalls this past industry and champions the use of recycled bricks in large scale construction connecting geology, history and sustainability.
"The play of dark bricks at the base - the apartment entries, landscape walls and planters - give a strong, monochromatic foundation to the recycled brick polychrome above, and act a subtle marker between public and private, architecture and landscape," said the Jury.
"The generosity of the open space is registered in the scale, connectivity and particularity of these gardens and the opportunity to find both personal space and community connection within."
The Think Brick Awards is an annual program that seeks to encourage architects and designers to push boundaries and reimagine the application of brick, block, pavers and roof tiles in contemporary design. The Think Brick Awards reward innovation and craftsmanship and recognise the important contributions that architects, builders, bricklayers, block layers and manufacturers make to the process of creating outstanding residential and commercial projects.
There are six awards, all with a cash prize. They are the Horbury Hunt Commercial Award, the Horbury Hunt Residential Award, the Kevin Borland Masonry Award, the Bruce Mackenzie Landscape Award, the Robin Dods Roof Tile Excellence Award, and the New Entrants Award.