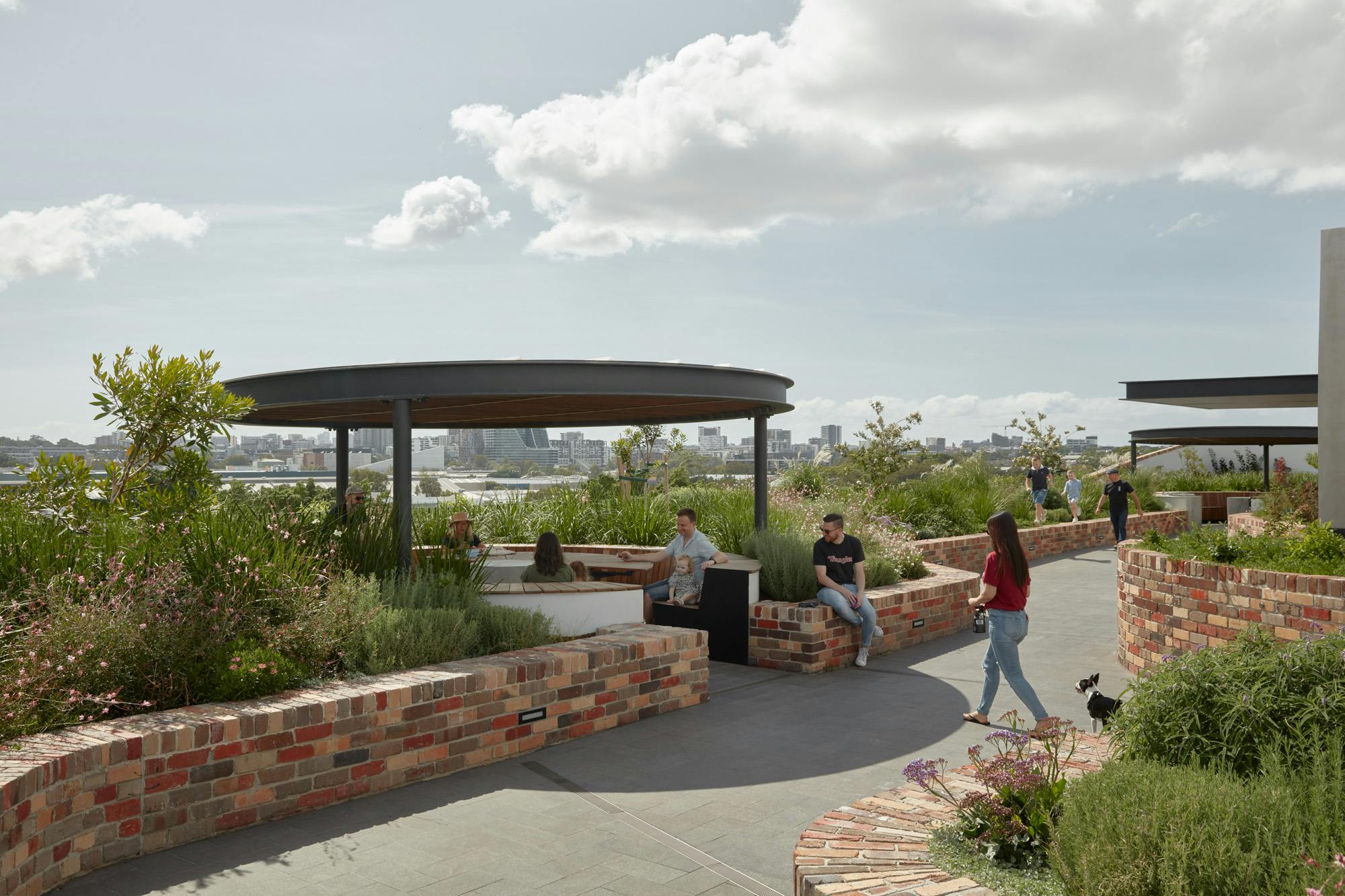 One of the several communal seating areas on the building's rooftop. Photo: Tom Ross.
Arkadia Apartments Complete
03 Mar 2020
Located in Sydney's Alexandria, the recently-opened Arkadia apartment development offers a compelling model for medium-density urban living while reflecting the character of its surroundings. Designed by DKO Architecture, Breathe Architecture and OCULUS for Defence Housing Australia (DHA), the project sets new benchmarks in how a multi-residential project can foster community, social interaction and neighbourhood integration through a collaborative design process.
The project consists of 152 apartments, with 55% being retained by DHA for defence personnel and their families and the remaining 67 sold on the open market. As landscape architects, OCULUS provided design and documentation services for the public and private domain, including an integrated ground plane (Huntley Green public park), through-site atrium links, a series of courtyard edible gardens and an expansive rooftop terrace.
"The close integration of landscape and architecture is key to the discussion of sustainable living and design," said Will Whitfeld, Senior Landscape Architect at OCULUS. "This project furthers that discussion by blurring the boundary between the two."
The Huntley Street development has a site area of 5,590m2 and has been carefully integrated into the surrounding streets in a way than enhances the neighbourhood. Two through-site links provide ground level entry via Sydney Park Road with clear views to foyers and public spaces beyond. Huntley Green, a new pocket park with integrated public artwork by Jane Cavanagh, provides a landscaped interface between the new building and existing terraces, providing common amenity and a sense of invitation, intimacy and comfort.
A series of communal terraces are provided on levels 2, 3 and 5. These terraces contain productive garden allotments to be made available to each resident, designed to encourage interaction between residents.
"We sought to provide not only enough but also the right kind of planting to go beyond being an aesthetic overlay, to becoming an integrated living system," said Whitfeld.  
The upper-level roof terrace provides uninterrupted views of Sydney Park and Sydney's skyline complete with BBQ facilities, seating pods, a chook pen and sheltered areas.
The dominant material of recycled bricks references the site's history as a brickworks while championing the use of recycled materials in large construction projects.
Arkadia was constructed by Icon and the design team procured through a design excellence competition in 2015.