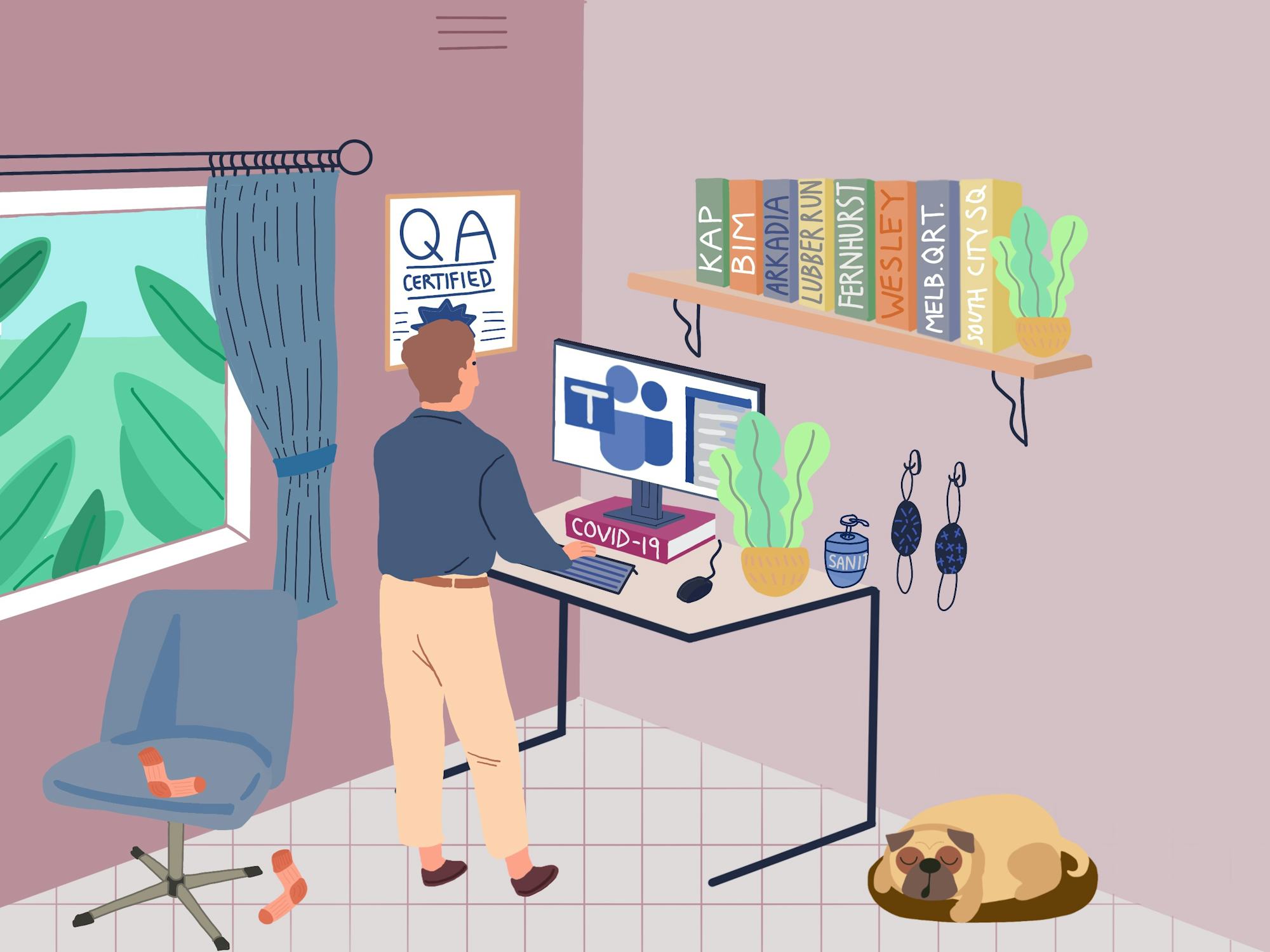 Illustration by Ricky Ricardo.
2020: Year in review
14 Dec 2020
It's hard to avoid clichés when trying to sum up 2020. It truly has been a year like no other.
In March and April, our Sydney and Melbourne staff farewelled the studio and said hello to working from home. While our Sydneysiders endured three months of hard lockdown and working from home, our Melbourne staff were confined to their bedrooms and living rooms for the majority of the year under one of the world's longest running lockdowns. Our DC Studio staff have also been working remotely to ensure the community's safety, and while challenging, the move has allowed us to continue our work throughout the DC region delivering quality projects that have been years in the making and we have had the pleasure of starting some exciting new opportunities.
While it was an awfully tough year for many of our staff, the resilience and fortitude displayed was extraordinary.  
Despite the challenges brought by the global pandemic, OCULUS has come through 2020 in very good shape and we have even achieved a number of long-term ambitions.
OCULUS Australia now ISO9001:2015 certified
We are proud to announce that OCULUS Australia passed our first external audit for Quality Accreditation to ISO:9001 2015 in September 2020 are now Quality Assurance certified. It would not have happened without the exhaustive work of our QA committee, Vicki Earle, Peta Miskovich, Simon Bond, Kim Logan, Emily Mabin and Alia Khan, who spearheaded the restructuring of our studio processes to achieve success on our first external audit.
Will Whitfeld appointed OCULUS Australia's BIM Manager
Senior Landscape Architect Will Whitfeld has taken on the role of full-time BIM Manager, working across our Australian studios.
"I am excited to take on this new role which will greatly assist OCULUS in accelerating our adoption of BIM workflows, processes and digitally-led project coordination," said Will.
OCULUS is now in Canberra
OCULUS has opened a permanent studio in Canberra headed up by Associate Peta Miskovich.
Located on Kendall Lane in Canberra's NewActon Precinct, the studio is housed within Pavilion Studios, a set of workspaces for creatively-minded businesses.
The main focus for the new studio heading into 2021 will be the Kingston Arts Precinct project, a collaboration with FKA for Canberra-based developer Geocon that will sensitively transform a former industrial site on the banks of Lake Burley Griffin into Canberra's premier arts and cultural district.
Fresh faces
OCULUS has grown in size in 2020, welcoming the following new staff:
Das Patterson, Graduate Landscape Architect, based in Melbourne
Ken Kuo, Graduate Landscape Architect, based in Melbourne
Luciana Acquisto, Landscape Architect, based in Melbourne
Molly Rose-Coulter, Graduate Landscape Architect, based in Melbourne
Tessa Colclough, Associate, based in Sydney
Zinate Wehbe, Associate, based in Sydney
Rosalie Brooker, Student, based in Sydney
Eva Widhlam, Office Manager, based in Washington DC (Meredith Martin departed to pursue a nursing career after completing her studies)
Promotions
Peta Miskovich was promoted to Associate Landscape Architect.
Gareth Feng was promoted to Landscape Architect.
Registrations
Patrick Hegarty is now a Registered Architect (ARBV 20742) after passing his exams in November.
New babies
Catherine Goh went on maternity leave earlier in the year to bring baby João Alexandrino Lima Goh into the world.
Simon Bond is currently on paternity leave caring for new twins Abby & Theo.
Daria Gelman welcomed a healthy baby boy – Niko Gelman into the world in May.
Bob Earl's chooks had two chickens, both are happy and healthy and will hopefully be laying soon.
Weddings
Timothy Mitchell tied the knot with his long-time partner Lucy at a ceremony in north-east Victoria.
Appointments + Prizes
Claire Martin was made a Fellow, and elected as the National President of the Australian Institute of Landscape Architects.
Roger Jasprizza was reappointed to the NSW State Design Review Panel.
Molly Rose Coulter was awarded the 2020 Patricia Guthrie Memorial Prize for her academic performance and contribution to the local landscape architecture community.
Claire Martin was made Chair of the International Federation of Landscape Architects' Asia-Pacific Climate Change Working Group.
Simon Bond has been appointed to AILA's Climate Positive Design Working Group.
Articles and Publications
"Doing Business in Asia", published in The Big Book of Asian Landscape Architecture, Jovis Verlag, December 2020, by Ricky Ricardo & Dr Jillian Walliss.
The Conservation Hour: "Restaurant owners say COVID-safe outdoor dining plan won't work in Victoria", ABC Radio Melbourne 774, September 2020, with Claire Martin.
Will Whitfeld interviewed by Backyard Magazine on Arkadia Aprtments landscape design, September 2020.
Educational Effects, published in Landscape Architecture Australia, August 2020, by Ricky Ricardo.
"What will our cities and urban spaces look like after COVID-19?" with Dr Melanie Davern, Claire Martin and Hilary Harper, May 2020, ABC Radio National 621.
"Multi-species health—an eco-aesthetic responsibility", published in Kerb 28, December 2020, by Claire Martin and Molly Rose-Coulter.
Events
In March 2020 OCULUS hosted a (mock) Royal Commission into the state of Australian cities, a Melbourne Design Week event that brought together a range of built environment professionals, policy makers and informed commentators (from across the political spectrum) for a lively debate into the most pressing issues facing the planning of our cities.
Speakers included: Cassie Serpell, Barrister, Victorian Bar as Counsel Assisting; Dr Joshua Zeunert, Senior Lecturer, Landscape Architecture Program, UNSW Sydney: Joan Ko, Sustainability Leader, Arup Australasia; Sarah Lynn Rees, Palawa woman, Graduate of Architecture at Jackson Clements Burrows; Peter Seamer, Author of Breaking Point: The Future of Australian Cities and Former CEO of the Victorian Planning Authority; Phoebe Harrison​, Associate at SGS Economics and Planning; and Michael Zorbas, Group Exec. Policy & Advocacy, Property Council of Australia.
Awards
In 2020 we picked up the following awards:
Think Brick Bruce Mackenzie Landscape Award – Arkadia
Australian Institute of Landscape Architects National Award of Excellence for Gardens – Arkadia
Australian Institute of Landscape Architects National Award for Parks and Open Space – Dyuralya Square
Australian Institute of Landscape Architects ACT Award of Excellence for Urban Design – Braddon Place Vision
Australian Institute of Landscape Architects NSW Award for Parks and Open Space – Dyuralya Square
Australian Institute of Landscape Architects NSW Award for Gardens – Arkadia
Australian Institute of Architects (AIA) NSW Milo Dunphy Award for Sustainable Architecture – Arkadia (with DKO and Breathe)
Australian Institute of Architects (AIA) NSW People's Choice Awards for Life in 2020, "Isolation Oasis" Award – Arkadia (with DKO and Breathe)
Australian Institute of Architects (AIA) NSW Commendation for Educational Architecture – Meriden School, Lingwood Campus (with Allen Jack+Cottier)