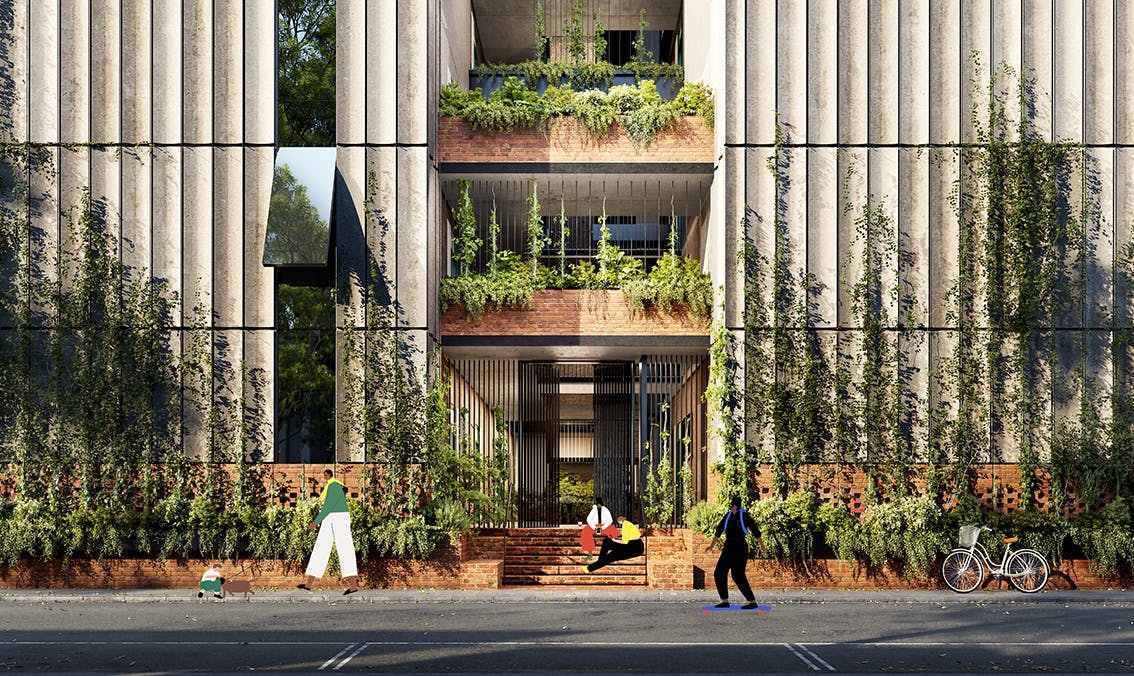 15 Thompson Street Kensington features a social stoop and vertical planting. Image: Assemble.
OCULUS collaborates with Assemble and Hayball on 15 Thompson Street Kensington
08 May 2020
15 Thompson Street is the latest mixed-use residential development by Assemble and located in the inner Melbourne suburb of Kensington. OCULUS worked with architects Hayball on this intimate development where liveability, connectivity and wellbeing take precedence.
Featuring 198 apartments across two mixed-residential buildings, 15 Thompson Street will welcome a vibrant urban community, comprising studio, one, two and three-bedroom floorplans.
Residents will enjoy well designed apartments with open breezeways and vertical gardens that connect each home with sunlight and cross-flow ventilation.
OCULUS contributed its expertise to the internal courtyard that will connect the project back to the wider Kensington community, while dedicated vegetable and edible gardens will invite residents to connect with each other. Our focus centres around increasing ground plane permeability and amenity, providing borrowed views and creating seasonal change through planting for residents, neighbours and visitors.
The development includes ground floor communal rooms that will offer a tranquil setting for residents to enjoy morning yoga followed by a coffee from Assemble's dedicated hospitality space. The rooftop will feature a barbeque, woodfire pizza oven and communal play and sporting facilities to encourage informal neighbourly connections. A rooftop laundry provides ample space to sun-dry linen, reducing the building's electricity demand.
15 Thompson Street further encourages sustainable living with a residents' workshop (including a 'lending library' stocked with useful tools and equipment) and storage for more than 400 bikes.